Product Information Management
Fueling your members' online success.
Members can't manage a PIM on their own. Introducing the world's first PIM designed with buying groups and purchasing coops in mind.
LBMX's Product Information Management (PIM) allows rich product content to be managed across the group rather than forcing individual members to duplicate cost and effort. With rapidly evolving sales channels, product content is no longer a nice-to-have – it's an urgent need. 
Built from the ground up with buying groups and their members in mind, LBMX's PIM provides the enriched product data for your members' e-commerce and other sales channels.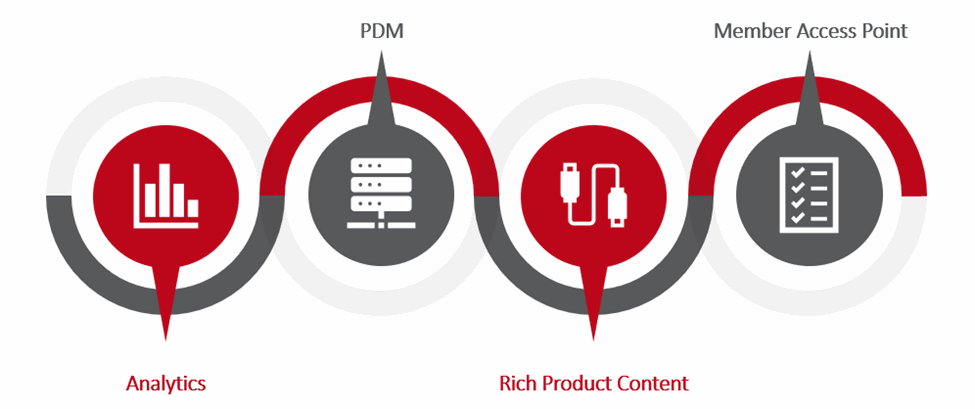 Leverage the power of your Group Marketplace.
Acquiring and maintaining product content can be difficult and time consuming. LBMX's unique Group Marketplace and experience with your supplier community solves this problem. LBMX's product information management (PIM) solution allow rich product content to be managed centrally by the group and then distributed to members. 
Designed with Members in mind.
LBMX understands the needs of your group. Within the LBMX PIM, members can still maintain their own product descriptions, product numbers, and pricing. Products can be downloaded in the format they need into whatever system they are using. Members share the benefits of belonging to a group while retaining their independence. 
Stop paying per SKU fees.
Simple pricing for you and your members. LBMX provides a group-negotiated rate not based on variable per SKU pricing. 
Features
Automated tools to ensure data consistency, minimize manual work, and help your members get to market 

faster

 

Allow members to create custom product hierarchies, product numbers, and marketing-friendly product descriptions, while maintaining every aspect of your group's master record

Integrate product data directly into other LBMX tools and 

platforms

 

Create end-to-end product data value chain for your members with rich product content, product digital assets, and digital 

commerce

 

Easily feed e-commerce websites, inventory management systems, POS systems, marketing tools and other business applications

 
Fuel your members' sales efforts with rich product content.